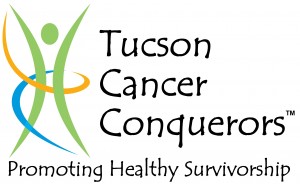 – Empowering Cancer Survivors and the Communities that Support them to Achieve Optimal Wellness –
Tucson Cancer Conquerors is an all-volunteer, non-profit support group run by cancer survivors and the community of people who support them.  They offer a variety of creative wellness programs designed to inspire and empower cancer survivors to be proactive about their health to improve the quality of their lives, both during and after cancer treatment.
The good news is, you don't have to be a cancer survivor to be involved!  Exercise, nutrition, education and stress reduction are also essential components of cancer prevention and can benefit everyone!  In addition to their regular programming, they also offer the opportunity to network with others through social activities and a one-to-one peer support program.
So bring a friend and come to one of their activities – they have something for everyone:
Exercise classes for all fitness levels
Meditative walks
Organic Gardening
Monthly lunches and birthday dinners
Social events and weekend retreats
Peer support programs
Educational events and seminars
For more information, visit their website:  YouCanConquer.org
Telephone: (520) 505-1406
Email:  info@tucsoncancerconquerors.org
Tucson Cancer Conquerors, Inc.
3482 E. River Road
Tucson, AZ  85718